When:
June 1, 2014 @ 2:00 pm – 4:30 pm
Cost:
$18 (or $60 for all four programs in the series)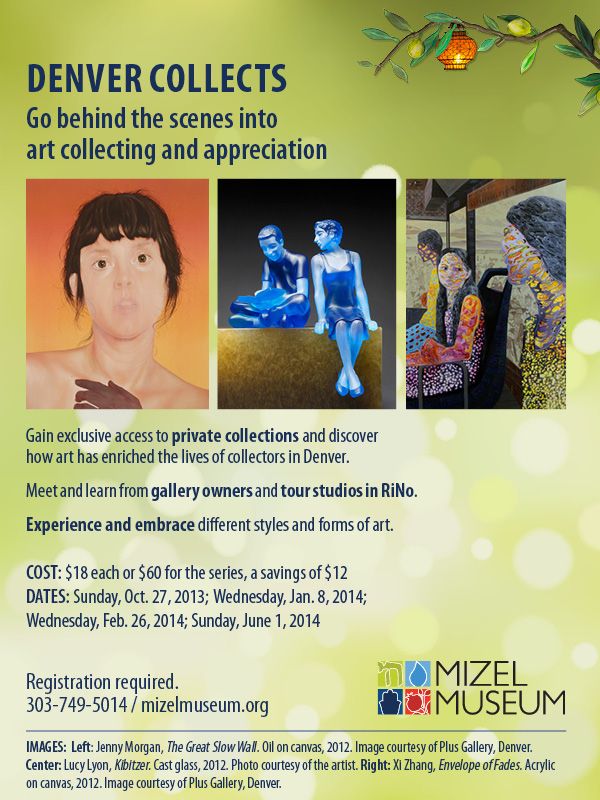 Do you want to gain exclusive access to private collections and studios in Denver? Do you want to learn how to experience and embrace different styles and forms of art and discover how art has enriched the lives of collectors in Denver?
Whether you're a novice or experienced art collector or enthusiast, you'll love Denver Collects. This new series of programs from the Mizel Museum will include visits to view private home collections and exclusive tours of art galleries in the RiNo Art District. Each program features a presentation by and discussion with a local private collector or gallery representative.
This fourth and last program in the series will take you to Denver's RiNo Art District. In conjunction with the Windows to the Divine® Art Exhibition (featuring more than 50 artists, including Quang Ho, William Hook, Emilio Lobato, Jill Soukup and Daniel Sprick), hosted by the Colorado Dominican Vocation Foundation (CDVF) at ArtHaus Gallery in RiNo, we will privately tour several of the galleries in the district and meet with their directors. The tour will begin at ArtHaus with a viewing of the Windows show and a special presentation for new and seasoned collectors by Shannon Robinson, Chairperson of the Mizel Community Board and President of the CDVF entitled "The Art Imperative: Building Living Lifetime Collections (Investments & Tales of Famous American Collectors and Practical Tips on How Everyone can become a Collector."
Sign up for this program, or save $12 by registering for all four programs in this series: Oct 27, Jan 8, Feb 26 and June 1.