When:
March 9, 2014 @ 1:00 pm – 3:30 pm
Where:
Mizel Museum, 400 South Kearney Street, Denver,CO 80224, USA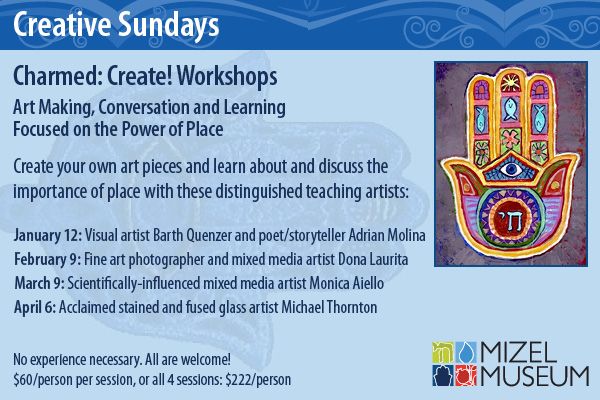 Charmed: Create! Workshops enable you to create your own art pieces and learn about and discuss the power of place with distinguished teaching artists.
March 9: Our Place in Space: Art and the Cosmos
What are the connections between art, life on earth and possibly beyond? Come explore art and the cosmos with teaching artists and NASA consultants Tyler & Monica Aiello. Engage in hands-on art-making while investigating science with a unique cultural twist.
See www.studioaiello.com and this video by 5280.
No experience necessary; all are welcome!
Register for this workshop, or register here for the whole series (all four programs) for $222 (a savings of $18).
About the Charmed: Create! Workshops
These Sunday afternoon programs focused on the idea that we are all born creative, curious, and hungry to explore the world around us. The question is how to keep those qualities alive and flourishing as an adult. Each workshop will look at creativity as a process rather than just product (a painting, a piece of music, a poem, etc.). We will focus on the theme of the Power of Place as a way to jumpstart your imagination, creativity and abilities to innovate in your professional and personal life.