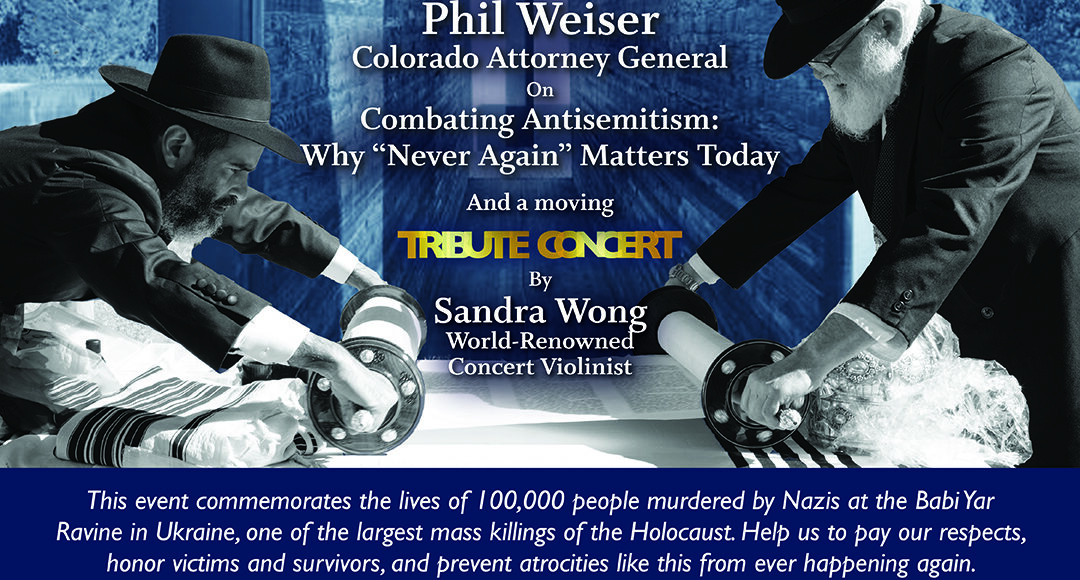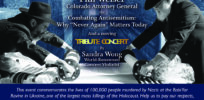 Tagged:
The Babi Yar 81st Anniversary Commemoration & Tribute Concert was held on September 29, 2022 at 3:00 PM at Babi Yar Memorial Park.
Hosted by Governor Jared Polis and the Mizel Museum, the commemoration honored those lost during the massacre at the Babi Yar ravine in Ukraine, as well as all victims and survivors of the Holocaust. This year's featured Keynote Speaker was Colorado Attorney General Phil Weiser who addressed confronting rising acts of hatred. The event included a moving tribute concert by Sandra Wong, a world-renowned concert violinist.
This annual ceremony encourages the community to reflect upon the ongoing violence throughout the world and to become educated on the destructive forces of hatred and bigotry through the lessons of the Holocaust.
Questions: details@mizelmuseum.org or 720-785-7300

Philip J. Weiser
COLORADO ATTORNEY GENERAL
Colorado Attorney General Phil Weiser was sworn in as the State's 39th Attorney General on January 8, 2019. Before running for office, Weiser served as the Hatfield Professor of Law and Dean of the University of Colorado Law School. He served on President Obama's Transition Team and in President Bill Clinton's Department of Justice as senior counsel to the Assistant Attorney General. Before his appointment at the Justice Department, Weiser served as a law clerk to Justices Byron R. White and Ruth Bader Ginsburg at the United States Supreme Court. He is the son and grandson of Holocaust survivors.
Read More

Sandra Wong
Sandra Wong has toured nationally and internationally as a solo artist and in collaboration with various musicians. She has appeared at numerous festivals and concert series.
Read More
About Babi Yar Park
A project of the Mizel Museum and Denver Parks & Recreation, Babi Yar Park is a 27-acre memorial landscape that provides a place of quiet contemplation to reflect upon crimes against humanity and genocide. Native vegetation and trees encourage solace, and a small grassy amphitheater is available for gatherings and dialogue. In 1969 Mayor William H. McNichols, Jr. designated the land for the purpose of creating "a place that would demonstrate a unified public protest." Now in the third phase of development, the park's memorial structures create a symbol of conscience that has become a landmark of national significance.
THANK YOU TO OUR PARTNERS